From: google news
Well loved art teacher who was passionate about music will be remembered at concert
Bridport and Lyme Regis News
From: google news
UK edges closer to Brexit as Tories close in on majority
KTBS
From: google news
UK Election 2019: With Conservatives headed for a strong majority, Brexit is well and truly back on the menu
Firstpost
From: google news
What are the Battersea General Election 2019 results?
Manchester Evening News
From: google news
UK election exit poll suggests Conservatives majority
KAAL
From: flickr
Utopist posted a photo:
From: davblog
I've been working in this industry for a long time – over thirty years. For most of that time, I've been working as a freelancer, but it's always been working for someone else. When I set up Magnum Solutions (my freelancing company) in 1995 I always had a vague desire to grow it into a company that wasn't just me selling my time and skills to other companies. But I've never really known how I wanted to do that.
On the other hand, I've spent a lot of those thirty years building web sites in my spare time. Whether it's my (now, long defunct) BBC Streams project or current sites like Line of Succession or TwittElection, there's always something that I'm tinkering with. Some of them get some small level of popularity. None of them has ever made me enough money that I could consider giving up the freelancer life in order to spend more time on one of these projects.
This year has been slightly different. This was the year that the market for Perl freelancers in London finally hit the level at which I decided to take a permanent job. So I've been working for Equals (formerly FairFX) as a senior developer since February. But even that didn't feel quite right. It felt a bit like a step backwards to go back to being an employee.
And then, while on holiday a month ago, something crystalised for me during a conversation with a friend. She asked how I'd really like to spend my time and I replied that I'd like to take time off from working nine to five and spent it trying to turn one or more of my side-projects into a real business. She asked what was stopping me from doing that and I replied that I didn't have enough money. She laughed and asked me what the money in the ISA that I've been paying into on and off for the last decade was for. I'd always vaguely assumed it was for "the future" (whatever that means) but I realised that she was right. There was no reason at all why I shouldn't use some of that money to support myself while I took time off work to do what I really wanted.
So that's what I'm going to do. I've given notice at Equals and I'm leaving just before Christmas. And for the first six months of 2020, I'll be living off my savings while I try to find some way to make a living from the various business ideas I've been doing almost nothing with for the last thirty years.
I'm going to be structured about it. I plan to try six things for a month each. I have an idea what the first two or three things will be but I hope you'll forgive me if I don't go into any detail right now. I do want to be very open about what I'm doing while I'm doing it – I've set up a new web site at davecross.co.uk and I'll be writing about my projects there. Hey, even if nothing takes off, perhaps there's a book in the reports of all my failures.
At the end of June, I'll take stock and decide whether it's worth continuing the experiment.
And that's what I'm calling my "2020 Vision". Because bad puns are the basis of good marketing – or something like that.
The post 2020 Vision appeared first on Davblog.
From: flickr
thecewdft posted a photo:
site: www.shoppingguideg7.com/archives/152672
From: flickr
thecewdft posted a photo:
site: www.shoppingguideg7.com/archives/152630
From: flickr
tislapnus posted a photo:
site: www.shoppingguideg7.com/archives/152672
From: flickr
tislapnus posted a photo:
site: www.shoppingguideg7.com/archives/152630
From: davblog
It's the last day of 2018, and I know I'm not going to a gig tonight, so that sounds like a very good time for my annual review of the gigs I've seen this year.
Songkick tells me that I saw 35 gigs in 2018. That's the lowest number since I've been counting them. It's even one fewer than 2012 when I had the excuse of having my leg in plaster for six months. I'm not sure why the number is so low. Perhaps I'm getting pickier about what I see.
Let's start by talking about a few of the disappointments. I don't know what I was expecting when I booked to see Kristin Hersh, but she didn't deliver and I left just after she sang "Your Ghost". I was similarly disappointed by The Primitives – I left after a few songs and didn't even wait to hear "Crash". But easily the worst show I saw this year was Tiffany. Yes, I know. I admit it was a bit of a gamble. But when I wondered aloud on Twitter about seeing the show, Tiffany replied, so I felt it was rude not to go. I lasted three songs before leaving.
On the other hand, here (in chronological order) are my ten favourite gigs of the year.
Superorganism at Oval Space. If there's any justice in the world, this will be one of those gigs that people claim to have been at. But only a few hundred of us were. If you haven't heard Superorganism's album, then I suggest you give it a listen. And then try to see them live as soon as you can.
Lily Allen at the Dome. I've seen Lily Allen at the Brixton Academy before and she was pretty good. But I wasn't going to miss the chance to see her in a small venue like this. It didn't matter that most of the set was made up of her new album – she was great.
Arcade Fire at Wembley Arena. Not many bands can persuade me to visit the soulless box that is Wembley Arena. But I'm glad I made an exception for Arcade Fire. They were (as always) sensational.
Florence + the Machine at the Royal Festival Hall. I'm not a huge Florence fan but when she announced this sudden gig at the South Bank, I jumped at the chance to see her again. Through the magic of my South Bank membership, I got a front-row seat and loved every minute of the show.
Pale Waves at Heaven. I saw Pale Waves twice this year, but I think the smaller show at Heaven just trumped the bigger show I saw later in the year at the Shepherd's Bush Empire. I'm looking forward to seeing them again soon.
David Byrne at the Hammersmith Odeon. It's one of my great disappointments that I never saw Talking Heads live. This was my second time seeing David Byrne (the first time, he was playing with St Vincent) and this show was absolutely amazing. He did it again later in the year at the O2 Arena, so I'm glad I saw it in a smaller venue.
The Cure at the Royal Festival Hall. This wasn't billed as the Cure (for contractual reasons, I think) but everyone knew that's what Robert Smith was planning. This was an incredible, chronological journey through the band's music.
Amanda Palmer at the Queen's Hall. It's been a couple of years since Amanda Palmer made this list and it's great to report she's back on top form. These shows at the Edinburgh Festival were a prototype for a tour she's planning to take around the world over the next two years. I suggest you try really hard not to miss it. (I've just remembered that I saw her earlier in the year too – but that show is not on Songkick as it was a private event for her Patreon supporters. That was awesome too.)
Soft Cell at the O2 Arena. I never saw Soft Cell when they were first around and I walked out of a Marc Almond show a couple of years ago. But there was no chance I'd miss this. Even the O2 couldn't suck the life out of a Soft Cell show.
All Saints at the Hammersmith Odeon. A little bit of cheese to end the year. All Saints were a bit of a guilty pleasure twenty years ago and they're still a lot of fun these days.
Although I saw fewer shows this year, they must have been of higher quality than usual. I can't believe that Sunflower Bean (who I saw twice), the Art of Noise, Belle and Sebastian or Heaven 17 didn't make the top ten. Even Yes were far better than I've ever seen them before.
So that was 2018. I already have some interesting things lined up for 2019 – a Tears For Fears show that was postponed from this year, Chvrches (for what seems the first time for far too long), ABC and Nick Mason playing some old Pink Floyd numbers are among the tickets I've already bought. I also have ticket to see the Buzzcocks for the first time, but I'm not sure if that will still go ahead following the death of Pete Shelley.
What about you? What did you enjoy seeing live this year?
The post 2018 in Gigs appeared first on Davblog.
From: davblog
Over the last few months, I've noticed that I've created a few quick and dirty websites using GitHub Pages. And when I mentioned the latest one on Twitter yesterday, a friend asked if I could take the time to explain how I did it. Which, of course, I'm very happy to do.
Do you mind sharing the knowledge in a step-by-step instructions, please?

— Mohammad S Anwar (@cpan_author) August 25, 2018
Let's start with a couple of caveats. Firstly, GitHub Pages is a service provided by GitHub (the clue is in the name). If you're not comfortable with the idea of source code control, Git and GitHub then GitHub Pages probably isn't the best place for you to host your simple static websites. Secondly, GitHub Pages were originally introduced to enable Open Source Software projects to have a quick and easy way to create a good-looking website to market their wares. I'm not sure how happy GitHub is that people are using their services to host free websites. So please don't take liberties with their generosity. If you're planning to create a site that will be heavily visited or that you will make a load of money from, then please look elsewhere for hosting.
With that all out of the way, perhaps I should explain what GitHub Pages are.
GitHub Pages is a service provided by GitHub which allows you to create simple static websites and host them on GitHub's infrastructure. You can use a static site generator called Jekyll to build your website automatically whenever you change your input files or you can use some other system to build your site (including maintaining all the HTML files manually – which I really don't recommend).
Our first (very simple) site
Each GitHub Pages site is built from a GitHub code repository ("repo" for short), so we'll start by creating a new repo (mine was called simple-website). Use whatever workflow you usually prefer to create a new repo and add to it a file called index.md. Jekyll works with a text markup system called Markdown, so you'll need to pick up a bit of that (it's really not hard – which is pretty much why it was created). My file looks like this:
# Simple Test Website

This site is built on [GitHub pages](https://pages.github.com/), so
the source code is
[available on GitHub](https://github.com/davorg/simple-website/).

(Made by [@davorg](https://twitter.com/davorg))
Once you have committed this file and pushed it back to GitHub, we're ready to turn on GitHub Pages support for your repo. Go to the "settings" page for your repo and scroll down until you find the GitHub Pages section which will look like this: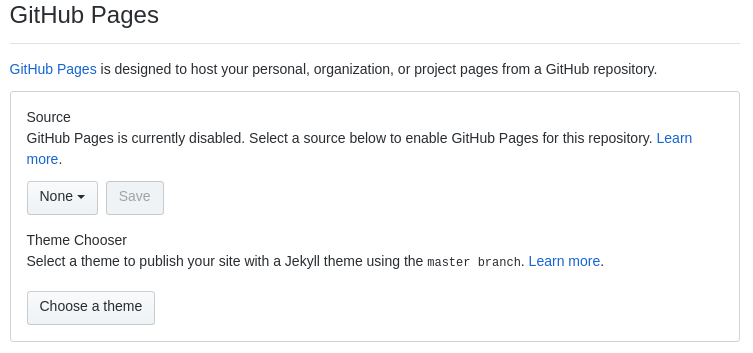 Change the "source" dropdown to "master branch" and hit save. The section will change to look like this: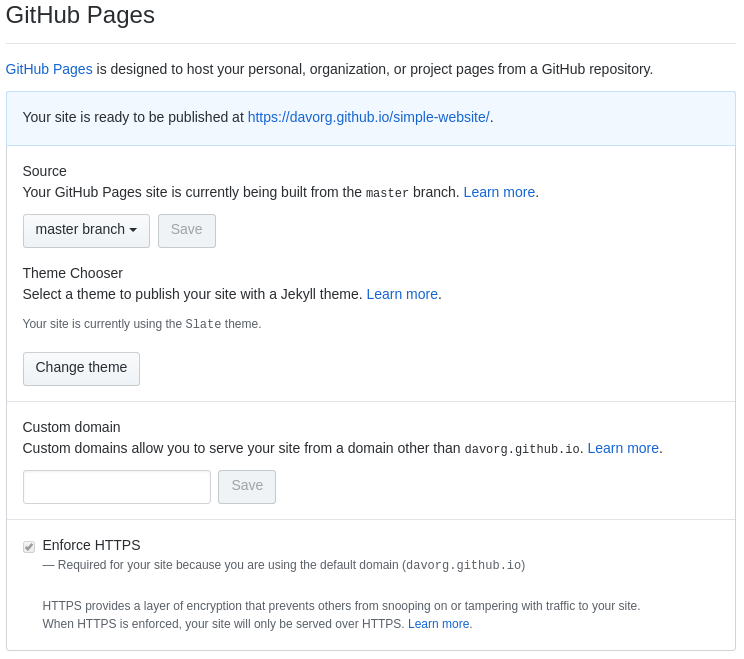 You'll see that the information includes a link to your new site. It will be https://your-github-username.github.io/your-repo-name/. If you click on that link, you'll see your site. In my case, it looked like this: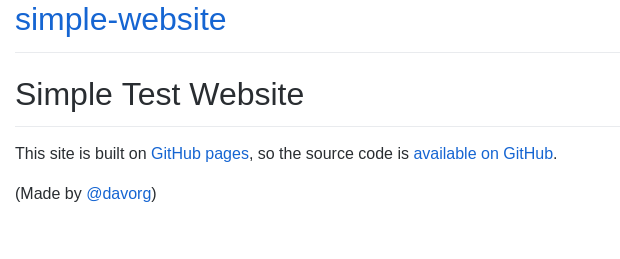 That is the default look of a website that is generated from Markdown file by Jekyll. It's certainly simple, but there are ways that we can improve it with very little effort. For a start, we can add a Jekyll theme. That's a button on the GitHub Pages settings. I chose the "Slate" theme and almost immediately, my website changed to look like this: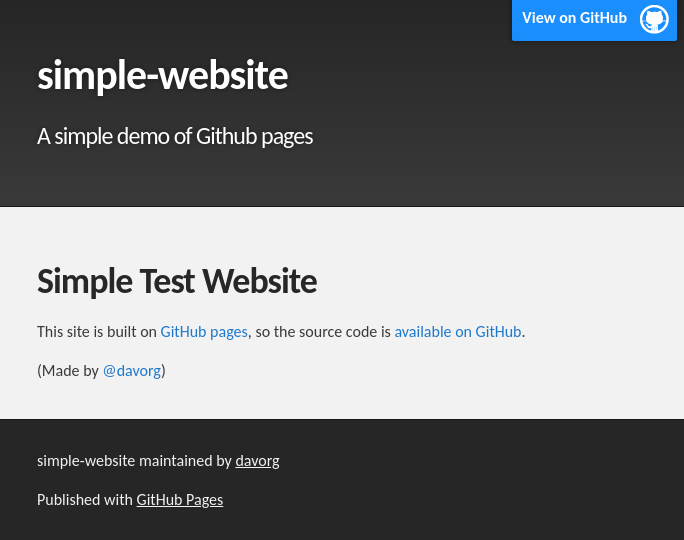 Notice that the theme has added a few more pieces of information taken from the repo's metadata If you look at your code, you'll see that the theme chooser has simply added a file called _config.yml to your repo. That file will become more important if you choose to dig further into Jekyll.
You'll also see that your GitHub Pages is automatically served over HTTPS – so you get all the security and SEO boosts that brings.
From here, there are a few ways to go in order to improve our site:
We can add more pages to the site by adding more Markdown files
We can dig deeper into Jekyll and make more use of its features
We can abandon Jekyll and switch to a different static site generator
We can start to use a custom domain for our website
I plan to cover some of these options in other articles.
The post Simple Static Websites With GitHub Pages appeared first on Davblog.
From: davblog
When I signed up for my Monzo bank account last year, one of the things that really excited me was the API they made available. Of course, as is so often the way with these things, my time was taken up with other things and I never really got any further than installing the Perl module that wrapped the API.
The problem is that writing code against an API takes too long. Oh, it's generally not particularly difficult, but there's always something that's more complicated than you think it's going to be.
So I was really interested to read last week that Monzo now works with IFTTT. IFTTT ("If This Then That") is a service which removes the complexity from API programming. You basically plug services together to do something useful. I've dabbled with IFTTT before. I have "applets" which automatically post my Instagram photos to Twitter, change my phone's wallpaper to NASA's photo of the day, tell me when the ISS is overhead – things like that) so I knew this would be an easier way to do interesting things with the Monzo API – without all that tedious programming.
An IFTTT applet has two parts. There's a "trigger" (something that tells the applet to run) and an "action" (what you want it to do). Monzo offers both triggers and actions. The triggers are mostly fired when you make a purchase with your card (optionally filtered on things like the merchant or the amount). The actions are moving money into or out of a pot (a pot in a Monzo account is a named, ring-fenced area in your account where you can put money that you want to set aside for a particular purpose).
You can use a Monzo trigger and action together (when I buy something at McDonald's, move £5 to my "Sin Bin" pot) but more interesting things happen if you combine them with triggers and actions from other providers (move £5 into my "Treats" pot when I do a 5K run – there are dozens of providers).
I needed an example to try it out. I decided to make a Twitter Swear Box. The idea is simple. If I tweet a bad word, I move £1 from my main account into my Swear Box pot.
The action part is simple enough. Monzo provides an action to move money out of a pot. You just need to give it the name of the pot and the amount to move.
The trigger part is a little harder. Twitter provides a trigger that fires whenever I tweet, but that doesn't let me filter it to look for rude words. But there's also a Twitter Search trigger which fires whenever a Twitter search finds a tweet which matches a particular search criterion. I used https://twitter.com/search-advanced to work out the search string to use and ended up with "fudge OR pish OR shirt from:davorg". There's a slight problem here – it doesn't find other versions of the words like "fudging" or "shirty" – but this is good enough for a proof of concept.
Creating the applet is a simple as choosing the services you want to use, selecting the correct trigger and action and then filling in a few (usually pretty obvious) details. Within fifteen minutes I had it up and running. I sent a tweet containing the word "fudge" and seconds later there was a pound in my Swear Box pot.
Tonight, I was at a meeting at Monzo's offices where they talked about how they developed the IFTTT integration and what directions it might go in the future. I asked for the latitude and longitude of a transaction to be included in the details that IFTTT gets – I have a plan to plot my transactions on a map.
Monzo is the first bank to release an integration with IFTTT and it really feels like we're on the verge of something really useful here. I'll be great to see where they take the service in the future.
The post Monzo & IFTTT appeared first on Davblog.
From: davblog
Yesterday I was at my second Brighton SEO conference. I enjoyed it every bit as much as the last one and I'm already looking forward to the next. Here are my notes about the talks I saw.
Technical SEO
Command Line Hacks For SEO
I misread the description for this. I thought it would be about clever ways to use command-line tools for SEO purposes. But, actually, it was a basic introduction to Unix command-line text processing tools for people who were previously unaware of them. I wasn't really the target audience, but it's always good to see a largely non-technical audience being introduced to the powerful tools that I use ever day.
Diving into HTTP/2 – a Guide for SEOs
A good introduction to why HTTP/2 is good news for web traffic (it's faster) and a great trucking analogy explaining what HTTP is and how HTTP/2 improves on current systems. I would have liked more technical detail, but I realise most of the audience wouldn't.
Diagnosing Common Hreflang tag issues on page and in sitemaps
To be honest, I was only here because it was the last talk in the session and I didn't have time to move elsewhere. I have never worked on a site with pages that are translated into other languages, so this was of limited interest to me. But Emily certainly seemed to know her stuff and I'm sure that people who use "hreflang" would have found it very interesting and useful.
One thing bothered me slightly about the talk. A couple of times, Emily referred to developers in slightly disparaging ways. And I realised that I've heard similar sentiments before at SEO events. It's like developers are people that SEO analysts are constantly battling with to get their work done. As a developer myself (and one who has spend the last year implementing SEO fixes on one of the UK's best-known sites) I don't really understand this attitude – as it's something I've never come across.
It's annoyed me enough that I'm considering proposing a talk called "I Am Developer" to the next Brighton SEO in order to try to get to the bottom of this issue.
Onsite SEO
Optimizing for Search Bots
Fili is a former Google Search Quality Engineer, so he certainly knows his stuff. But this talk seemed a bit scattershot to me – it didn't seem to have a particularly clear focus.
Advanced and Practical Structured Data with Schema.org
This was probably the talk I was looking forward to most. I've been dabbling in JSON-LD on a few sites recently and I'm keen to get deeper into to. Alexis didn't disappoint – this was a great introduction to the subject and (unlike some other speakers) she wasn't afraid to go deeper when it was justified.
Here first slide showed some JSON-LD and she asked us to spot the five errors in it. I'm disappointed to report that I only caught two of them.
Cut the Crap: Next Level Content Audits With Crawlers
This started well. A good crawling strategy is certainly important for auditing your site and ensuring that everything still works as expected. However, I was slightly put off by Sam's insistence that a cloud-based crawling tool was an essential part of this strategy. Sam works for Deep Crawl who just happen to have a cloud-based crawling tool that they would love to sell you.
Conferences like this are at their best when the experts are sharing their knowledge with the audience without explicitly trying to sell their services. Sadly, this talk fell just on the wrong side of that line.
Lunch
Then it was lunchtime and my colleagues and I retired just around the corner to eat far too much pizza that was supplied by the nice people at PI Datametrics.
SERPs
Featured snippets: From then to now, volatility, and voice search
This was really interesting. Rob says that featured snippets are on the rise and had some interesting statistics that will help you get your pages into a featured snippet. He then went on to explain how featured are forming the basis of Google's Voice Search – that is, if you ask Google Home or Google Assistant a question, the reply is very likely to be the featured snippet that you'd get in response to the same query on the Google Search Engine. This makes it an ever better idea to aim at getting your content into featured snippets.
From Black Friday to iPhones – how to rank for big terms on big days
Sam Robson / Slides
Sam works for Future Publishing, on their Tech Radar site. He had some interesting war stories about dealing with Google algorithm changes and coming out the other side with a stronger site that is well-placed to capitalise on big technical keywords.
[I can't find his slides online. I'll update this post if I find them.]
A Universal Strategy for Answer Engine Optimisation (beyond position 0)
This tied in really well with the other talks in  the session. Jason has good ideas about how to get Google to trust your site more by convincing Google that you are the most credible source for information on the topics you cover. He also talked a lot about the machine learning that Google are currently using and where that might lead in the future.
Reporting
I was at a bit of a loose end for the final session. Nothing really grabbed me. In  the end I just stayed in the same room I'd been in for the previous session. I'm glad I did.
How to report on SEO in 2018
All too often, I've seen companies who don't really know how to report effectively on how successfully (or otherwise!) their web sites are performing. And that's usually because they don't know what metrics are important or useful to them. Stephen had some good ideas about identifying the best metrics to track and ensuring that the right numbers are seen by the right people.
Top GA customisations everyone should be using
Having following Stephen's advice and chosen the metrics that you need to track, Anna can show you how to record those metrics and how to also capture other useful information. As a good example, she mentioned a client who was an amusement park. Alongside the usual kinds of metrics, they had also been able to track the weather conditions at the time someone visited the site and had used that data to corroborate ticket sales with the weather.
Anna seemed to be a big fan of Google Tag Manager which I had previously dismissed. Perhaps I need to revisit that.
The Math Behind Effective Reporting
Dana DiTomaso / Slides
And once you have all of your data squirrelled away in Google Analytics, you need a good tool to turn it into compelling and useful reports. Dana showed us how we could to that with Google Data Studio – another tool I need to investigate in more detail.
[I can't find her slides online. I'll update this post if I find them.]
Keynote
Live Google Webmasters Hangout
Two things struck me while watching the keynote conversation between John Mueller and Aleyda Solis. Firstly, I though that Aleyda was the wrong person to be running the session. I know that Brighton SEO tries hard not to be the usual stuffy, corporate type of conference, but I thought her over-familiar and jokey style didn't go well in a conversation with Google's John Mueller.
Secondly, I had a bit of an epiphany about the SEO industry. All day, I'd been watching people trying to explain how to get your site to do well in Google (other search engines are, of course, available but, honestly, who cares about them?) but they're doing so without any real knowledge of how the Mighty God of Search really works.
Oh, sure, Google gives us tools like Google Analytics which allow us so see how well we're doing and Google Search Console which will give us clues about ways we might be doing better. But, ultimately, this whole industry is trying to understand the inner working of a company that tells us next to nothing.
This was really obvious in the conversation with John Mueller. Pretty much every question was answered with a variation on "well, I don't think we'd talk publicly about the details of that algorithm" or "this is controlled by a variety of factors that will change frequently, so I don't think it's useful to list them".
The industry is largely stumbling about in the dark. We can apply the scientific method – we propose a hypothesis, run experiments, measure the results, adjust our hypothesis and repeat. Sometimes we might get close to a consensus on how something works. But then (and this is where SEO differs from real science) Google change their algorithms and everything we thought we knew has now changed.
Don't get me wrong, it's a fascinating process to watch. And, to a lesser extent, to be involved in. And there's a lot riding on getting the results right. But in many ways, it's all ultimately futile.
Wow, that got dark quickly! I should finish by saying that, despite what I wrote above, Brighton SEO is a great conference. If you want more people to visit your web site, you should be interested in SEO. And if you're interested in SEO, you should be at Brighton SEO.
See you at the next one – it's on September 28th.
The post Brighton SEO – April 2018 appeared first on Davblog.
From: wandsworth witterings
Listening to Billie Holiday on Apple Music
Reading Bernard Cornwell, Samuel Richardson, Balzac, Dickens, Ferrante
Watching Force Awakens
Thinking about how when I retire I'm going to live in small spare flat with a small spare garden with a terrier and a couple of turtles and learn how to write poetry, paint pictures and play the trumpet
From: wandsworth witterings
Hooray I'm on holiday for two weeks!
Yesterday I made and put the marzipan on the Xmas cake.
Today I'm going to Sisters using my Cineworld Unlimited card.
Tomorrow we're going to see the Force Awakens
Other stuff I'm doing:
- trying to find O2 Floor tickets for Strictly 2016 tour (we love you, Jay McGuinness, the human equivalent of the Andrex puppy)
- trying to get day tickets for Dominic West in Dangerous Liaisons at the Donmar Warehouse
- trying to get returns for Nutcracker, Cavalleria Rusticana at Covent Garden and Jim Broadbent in A Christmas Carol
- going to look at the West End Xmas windows with Laura
- going to Go Ape in Battersea Park with Alice
- going to Hampton Court as I've just realised I've got Historic Royal Palaces membership
- read, read, read!
- listen to unlimited music on Apple Music
- make mince pies (Delia)
- make Chana masala (Guardian)
- update this blog daily
Happy days
From: wandsworth witterings
Tea and coffee turns out to be a kettle, some tea bags and a pint of milk.
Then there's a big kerfuffle about where you sign in: at the back, at reception, "I've signed in three times now"
Then someone wants to open a window, but the windows don't open
Oh God someone I know is here. I'll make like I haven't seen her
Three hours later: actually it was really informative, if hair-raising. Obviously some parishes are a lot more problematic than others
From: wandsworth witterings
Driving down to Bristol for sister's wedding. We pass an estate agents window which has little model houses in the window like at Bekenscot.
Me: Laura, look at the cute little houses. Which one would you live in?
Laura: I can't really see them.
Me: I like the white one best, but the green one has bigger windows.
Laura: oh those houses. I thought you meant the houses they were advertising in the window. I was wondering how you could possibly see them.
Chris: I thought you meant the ones in the photos.
Alice: so did I.
Me: how could I possibly have seen the ones in the photographs? What, have I suddenly developed super eyesight?
Chris: that's what I thought. So I thought you must be talking just for the sake of saying something.
Me: when do I ever do that?
Chris: exactly. So I thought you must have gone mad.
Me: so you'd rather ignore everything you know about me and assume that I'd gone mad, rather than entertain the possibility that I might have been talking about the cute little model houses, which only that estate agent has, rather than the photos of houses, which every estate agent has?
Chris: I didn't think they were cute.
Me: surely it's more plausible that I meant the model houses but that what I think is cute is different from what you think is cute, rather than that I'd suddenly developed super eyesight and also lost my mind?
Chris: your position is indefensible
Me: my position is defensible. I am defending it, unfortunately I appear to be dealing with a bunch of dopes
Laura: we can't all be dopes
Me: well, apparently you can
Laura: the families in cars in adverts are never like this
From: wandsworth witterings
I'm in the grip of several slow-burning obsessions at the moment. Fall Out Boy, for one, I'm sort of crushing on them collectively. What a difference a live gig makes! It's hard to say why as most of the time you had to watch them on the big screens (and why is that different from watching them on YouTube?), but that is the mystery of human presence. Being there, in the same air as people, makes a difference. Why? Maybe they seem more real. Maybe you see everything, not just what the cameraman directs you to see, which helps to fill in the reality of someone.
Then I've started my new Elena Ferrante book. I wonder if a Lila really existed, or if the author is simply applying herself into two and writing about both halves. I wish I could get the girls to read it: it's such an eye-opening validating piece of work, especially for women. Some woman in the paper was worrying that it wasn't really literature. Why? Why not? What is
unliterary about it? The fact that it's enjoyable? The fact that it acts as
though what two young girls in Naples in mid-twentieth century thought or
felt is important? I don't see how you could find a book more serious intelligent and authentic than these novels are turning out to be.
On a more trivial note, I've been reading about Kate Moss' new squeeze in the Telegraph: Nikolai von Bismarck, who from a quick piece of deductive work via Wikipedia, must be the second nephew of Gottfried von Bismarck (the first cousin of Nikolai's father Leopold, who was the younger brother of Gottfried's father, the
Prince von Bismarck). I knew Gottfried from Oxford when we were both in a
Ionesco play, The Lesson, being directed by an acquaintance from New College. I didn't really know Gottfried, what with him being such a posho, but he seemed perfectly nice. He moved with the Olivia Channon set and died himself a few years ago, essentially from his lifestyle (drugs, gay orgies etc). All rather sad: gilded youth! This was all post the ITV Brideshead craze. Little did I think, as I was living through it, that people would be looking back at the eighties in a haze of nostalgia.
At lunch I went out and bought some Vichy Aqualia Thermal Serum because it
was on a Guardian list of best skincare products and I'm running out of
face cream. I don't even know how to use it! It was £5 off. I wonder if it
will have any detectible effect on my skin, that wouldn't be just as well
achieved with a £5 pot of generic moisturiser. Anyway, when I went to pay,
instead of the self-service checkout asking whether I wanted to buy a bag,
there simply were no bags. There was only a little Boots man wandering
around with a handful of bags. I told him I wanted to buy one, but I had no
change. He shoved a little paper bag into my hand and whispered, "Go, go,
run away!" which I promptly did. Hilarious.
From: vendazero
Went for a walk earlier because like Old Mother Hubbard my cupboard was bare .Didnt have a lot of cash so first stop was the fruit/veg market as they were packing up looked through a few boxes and ended up with about 40 apples.a pineapple,6 nice carrots,garlic and all for the bargain price of £0.00.Next stop a Health food place that every night puts out a few bags of goodies just reaching the sell by date ,its all perfectly good food.the haul was 200g of Cornish Camembert,125g of goats cheese,18 Glenilen Farm probiotic yoghurts 160g jars I kept 6 and redistributed the others to homeless people on my journey home.I called at Sainsburys and was able to splash out on Normandy butter ,a sunflower+honey bloomer loaf,Youngs fish ,a £4 ham and pineapple pizza so its good eating today.After washing/scrubbing the free fruit/veg it was juiced and produced 4 pints of juice better and fresher than the stuff bought in the shops.It still amazes and pisses me off the amount of good food throw away and destined for landfills while so many people are havuing a hard time and starving.Just grateful Im not one of them.
From: vendazero
Its my opinion that selling Big Issues is a honest honarable way to make a living.Ive been doing it on and off from the very begining, sure Im critical of the way its run but the benefits far outweigh the negative aspects.So the wages are not the best in the world but your rewards come in the form of the great orduinary people that you meet.Im not the sort that pushes it in peoples faces,I like to think that people who buy from me do so because they want to not because Ive put pressure on them or made them feel guilty in any way.In the past year Ive had a professional fundraising org headhunting me,telling me I could make 4 times as much for less effort.Truth is if I was to shake a bucket claiming the money was for starving third world children well thats where it would have to go,not in my pocket.Im no angel and while selling Big Issues if anyone asks I tell them the money is for me and if asked I tell them my housing status.Like I say Im honest like all the other venders, we dont make a living from other peoples misery - only our own.My advice before parting with money to a charity think about how much reaches those that need it.
From: vendazero
My apologies for ranting about time spent in the hostel system but in my opinion it was 6yrs of my life wasted.6 years where I had to have a keywork session with a moron every week and awnser the same questions over and over again.FFS how long does it take to asses someone and see if they are suitable for housing.Im of the opinion its a deliberate conspiracy to prove to society how essential they are in the rehabilitation of poor unfortunates like myself.Only thing is Ive never thought of myself as unfortunate no matter what apart from the times I had to sit and listen to all their fucking crap.I put up with it because I wanted a permanent place of my own without them having acsess to my room or supported housing unit so the nosey fuckers could snoop while I was out.I often used toleave little notes for them to find but only offensive ones.They couldnt say anything about this as they shouldn have been snooping .Its a fact if I had a key to their houses and did to them what they do to their residents I would probably be branded a pervert and locked up for a long time.In a nutshell hostels dont work as most residents end up back on the streets or are kicked out for raising hell about their draconian rules.
From: vendazero
Not all of the people working for homeless orgs are money grabbing careerists,or worse stupid.sOME ARE ANGELS i DONT HAVE TO NAME THEM THEY KNOW WHO THEY ARE its a tradgedy that they are more often than not in a surbordinate position and stick with their job to genuinly help.
I know a girl ,I say girl even though shes in her mid 40s now,she was a teenager when I met her begging on the Hungerford Bridge in the 80s.For over 20yrs she was a hard core heroin user,she knows everey trick in the book that drug users follow,maybe she even wrote it.She got of the drugs sorted her life out got a job with an org that deals with rough sleeping drug users,shes very familiar with the problems and bigotry and difficulty these people face when sorting their lives out or trying.Happy ending - no way,all she gets todo is the donkey work she feels and justibly that she is more qualified than her co-workers,she thinks she has been hired as the token ex-junkie.What a criminal waste of what could be that orgs most valuable asset.Is this her 2nd chance at life,and who could blame her if she went home everynight and stuck a needle in her arm.
From: vendazero
So it been established that rough sleepers have a pretty rough time,one night a outreach worker eventually finds them hidden in some out of the way place,they say I can get you a hostel place,meet me tomorrow.Let me tell you it feels like finding the pot of gold at the end of the rainbow.So you meet you go through all the procedures you think peace,safety ,escape from alcholuism ,petty crime,drug addiction and all its related baggage,you feel exstatic but that soon wears off when you are in your cell like room ,it begins to dawn on you that what you are holding in your arms like a new born baby is not as you envisaged a pot of gold but in reality its a bucket of shit.You are so run down tired you dont care anymore so you sleep.You awake to the sound of footsteps in the coridor,keys getting pushed intolocks door slamming obcenities being shouted,youre half asleep thinking shit slop out already,you rush to get dressed looking for the bucket there is none.The door opens you have one leg in your trousers a voice booms room check ,it then dawns on you again you are not in the Holiday Inn ,but a hostel ,you dont yet know youve been sentenced to 6yrs.
From: alice's dark place
I'm just going to come right out and say it. I am not a huge fan of
emoticons
. I do not use a happy face to indicate happiness, or a sad face to indicate sadness. I don't even use LOL when texting or IMing, as I prefer a simple "ha!" to get the idea of laughter accross.
However, I will acknowledge that I am in the minority. If there was a battle, I lost. Emoticons have won, and I accept their place in the world. I will even admit that they can make the tone of an email or text or whatever clear if the words themselves don't convey the proper meaning. I don't use them myself, but if someone sends me a frowny face or a confused face, I understand their meaning and move on with my life.
Except!
The winky face. If there is one emoticon I cannot stand, it is the winky face. You know the one I mean:
;)
The intended meaning, as far as I'm aware, is to convey cheekiness or sassiness. And it drives me up the freaking wall. Because here is the thing. In real life, people smile at each other, or frown, or have big smiles, or stick out their tongues (which, ugh), or look surprised. All of which have a corresponding emoticon to convey these expressions.
Do you know what people don't do? Wink at each other. Constantly wink at each other. And if they do, they should stop, because I'm sure they'll just develop a twitch of some kind.
There only two contexts I can think of where winking is appropriate in real life.
One: If you are playing a joke on someone and want to let someone they are with in on the joke subtly. A wink at that person while continuing the joking will get that message across, and then hopefully they'll get in on the joke and you'll all have some fun times.
Two: A pickup wink, done in jest. Possibly accompanied by finger guns. This works in almost any circumstance in life, and is generally delightful.
That's it! Those are the only two situations in which you should be winking! Or maybe if you're trying to get a contact back in place. But blinking would also accomplish this, so let's forget that one.
Two!
So, when I see people (and god help me, so many people do this) use the winky face after a comment they mean to be funny, all I can think is STOP STOP STOP! If you need to use an emoticon (and I really must stress that no one
needs
to use an emoticon) in that case, will the smiley face not do? What is wrong with the good old smiley face? Are you too good for the smiley face??
Your cheekiness comes across as far less cheeky if you have to tell me you're being cheeky! (Also, the work cheeky looks funny when you write it too many times. Cheeky.) Would you really wink in real life after you said whatever you just said? I thought not. It's just dumb. Stop it.
However, if someone develops an emoticon for the double finger guns, I will have to bow to their genius and gladly allow all winky face/double finger gun emoticon combos, as they will be hilarious.
From: alice's dark place
Cuba!
From: alice's dark place
Bruges! It's my most multi-lingual mug, as it also says "Bruges" and "Brujas".
From: alice's dark place
The kings and queens of Scotland. Educational!
From: alice's dark place
Barcelona is one of my favourite mugs. I think it's so pretty.